L'éventail Magazine Agenda Culturel Londres Septembre 2019
En rupture avec toutes les traditions, le poète mystique et artiste anglais William Blake se sentait libre d'exprimer des visions qui jusqu'alors étaient du domaine exclusif des poètes.
Download pdf
GALLERIES

eas
ROYAL ACADEMY OF ARTS
TATE BRITAIN
Victoria & Albert Museum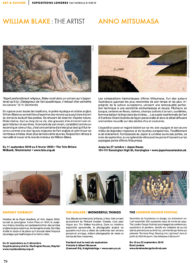 L'éventail Magazine Agenda Culturel Londres Juillet Aout 2018
The Queens Diamond Jubilee Galleries at Westminster Abbey
C'est un événement architectural et patrimonial mémorable ! Après les incendies de 1666 et de 1698, la disparition dans les flammes de l'ancien Parlement en 1834 et le sinistre blitz, Londres avait perdu de nombreux témoins de son passé architectural médiéval.
Download pdf
GALLERIES

NATIONAL GALLERY
TATE BRITAIN
THE QUEEN'S GALLERY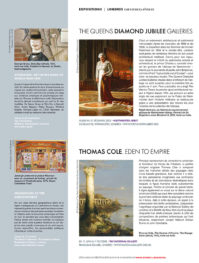 L'éventail Magazine Agenda Culturel Londres Novembre 2017
Download pdf
GALLERIES

NATIONAL GALLERY
National Portrait Gallery
TATE BRITAIN
TATE MODERN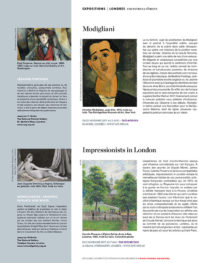 L'éventail Magazine Agenda Culturel Londres Septembre 2017
Download pdf
GALLERIES

BARBICAN ART GALLERY
NATIONAL GALLERY
ROYAL ACADEMY OF ARTS
TATE BRITAIN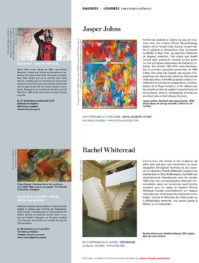 L'éventail Magazine Agenda Culturel Londres Avril 2017
Download pdf
GALLERIES

Bank of England Museum
Royal College of Physicians
TATE BRITAIN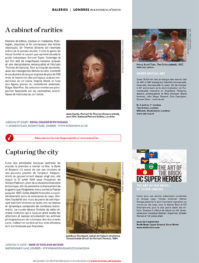 L'éventail Magazine Agenda Culturel Londres Octobre 2016
Download pdf
GALLERIES

NATIONAL GALLERY
Saatchi Gallery
Science Museum
TATE BRITAIN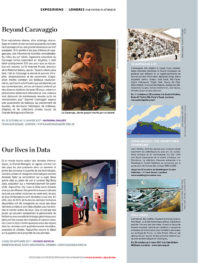 L'éventail Magazine Agenda Culturel Londres Mai 2016
Download pdf
GALLERIES

BRITISH MUSEUM
NATIONAL GALLERY
TATE BRITAIN
THE QUEEN'S GALLERY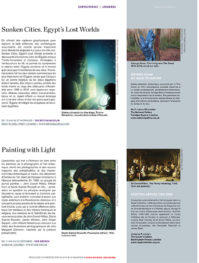 L'éventail Magazine Agenda Culturel Londres Juin 2015
Download pdf
GALLERIES

SOMERSET HOUSE
TATE BRITAIN
The Guards Museum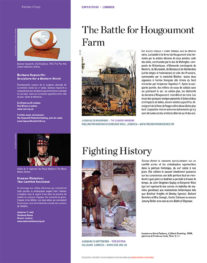 L'éventail Magazine Agenda Culturel Londres Février 2015
Download pdf
GALLERIES

Photographer Gallery
TATE BRITAIN
Victoria & Albert Museum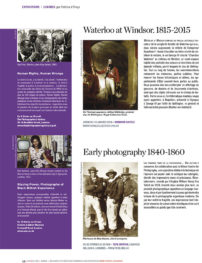 L'éventail Magazine Agenda Culturel Londres Septembre 2012
Download pdf
GALLERIES

ESTORICK COLLECTION
RONCHINI GALLERY
ROYAL ACADEMY OF ARTS
TATE BRITAIN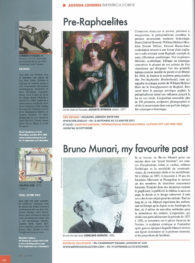 L'éventail Magazine Agenda Culturel Londres Septembre 2011
Download pdf
GALLERIES

National Portrait Gallery
TATE BRITAIN
V&A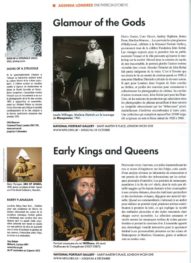 L'éventail Magazine Agenda Culturel Londres juin 2011
Download pdf
GALLERIES

COURTAULD GALLERY
NATIONAL GALLERY
ROYAL ACADEMY OF ARTS
TATE BRITAIN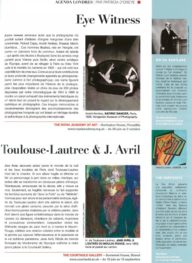 L'éventail Magazine Agenda Culturel Londres Avril 2011
Download pdf
GALLERIES

HAUNCH OF VENISON
TATE BRITAIN
TATE MODERN
V&A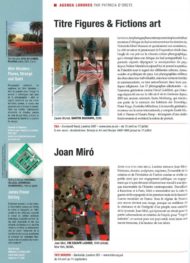 L'éventail Magazine Agenda Culturel Londres Février 2011
Download pdf
GALLERIES

COURTAULD GALLERY
National Portrait Gallery
SPRÜTH MAGERS
TATE BRITAIN